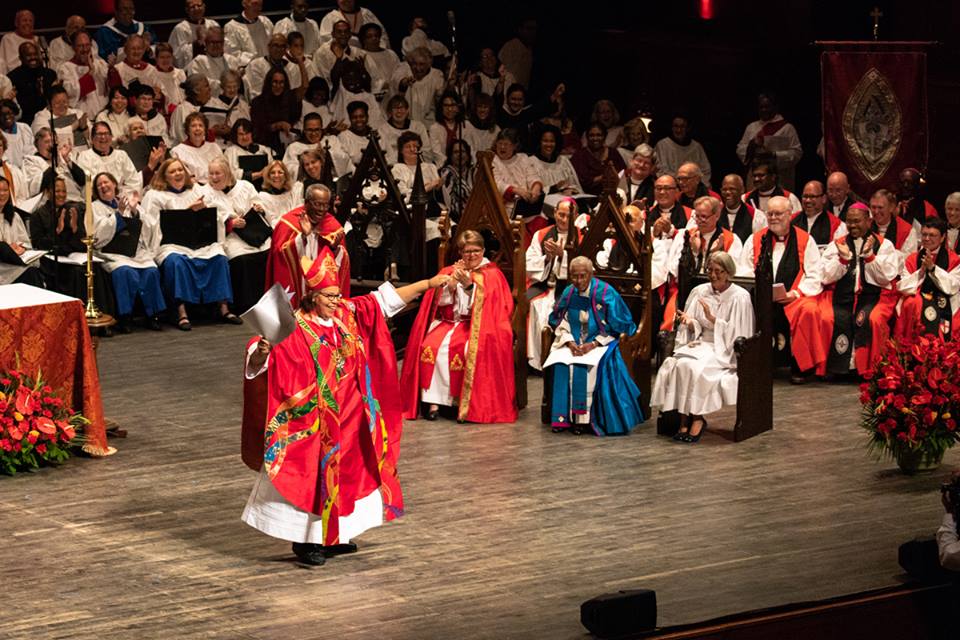 0 Comments
January 2, 2019
by admin
The Rt. Rev. Carlye J. Hughes was ordained and consecrated as the 11th bishop of the Episcopal Diocese of Newark on Sept. 22, 2018 at the New Jersey Performing Arts Center in Newark, NJ. More than 2,000 people attended the consecration service, and many others from around the world watched on live-streamed video, which was led by Presiding Bishop Michael Curry, who served as chief consecrator.
The Oasis was there to celebrate, represented by Mr. John Simonelli, chair of The Oasis Commission, and The Rev'd Dr. Elizabeth Kaeton, former Canon Missioner and present Commission member. The Oasis had commissioned Colleen Hintz of Fruit of the Vine Vestments (https://www.fruitofthevine.us/) to design an episcopal cope and mitre which would be reflective of the new bishop's understanding of her vocation to the episcopacy.
At the moment in the service when various gifts were presented to the newly consecrated bishop, Simonelli presented the cope, which will be worn in ceremonies over which she presides, and Kaeton presented the mitre, which the bishop immediately placed on her head with dramatic flair, raising thunderous applause of approval and delight from the assembled congregation.
Hughes was elected bishop of the Episcopal Diocese of Newark on May 19, 2018 on the first ballot. The 1,109th bishop of the Episcopal Church, she is the first woman and first African-American to serve as Bishop of Newark.