Scholarship & Grant Programs
Louie Crew Clay Scholarship
In recognition of Dr. Louie Crew Clay's many years of prophetic witness in and beyond the Diocese, The OASIS – a justice ministry of the Episcopal Diocese of Newark – is pleased to announce a fund to support scholarly work that shares our mission "to challenge the church to be a prophetic witness."
The OASIS will award up to two annual scholarships of $2,500. Scholarship applications will be vetted by a Scholarship Committee and winners will be announced at our anniversary event in June.
We welcome applications from writers, students, and researchers, which must be received by April 1st to be considered for the same year.
TO APPLY
Describe specifically in no more than 500 words how you will use the money to support ongoing scholarly work which shares The Oasis' mission.
At the top of the sheet include your name and contact information.
Attach a résumé no longer than one sheet, and on a third sheet, provide a name, postal and/or email address, and phone number for two references who know you and your scholarship.
Address:  The Oasis, 31 Mulberry Street, Newark, NJ 07102
Email:  Chair@oasisnewark.org
About Louie Crew Clay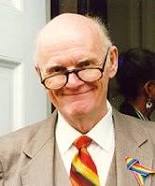 It is a distinct honor for The Oasis scholarship to bear the name of Dr. Louie Crew Clay in recognition of his many years of prophetic witness in the Diocese of Newark, The Episcopal Church, and beyond.
Born Erman Louie Crew to devout Baptists parents in the Deep South in 1936, Louie has spent his life as an academic and a scholar, a prolific writer and poet, and an activist for social justice. Louie was confirmed an Episcopalian in 1961. In 1974, he founded Integrity, the organization for LGBT Episcopalians, and was on the founding board of The Oasis in 1989. He also co-founded the lesbigay caucus of the National Council of Teachers of English in 1975. He served on the board of directors of the National Gay Task Force (now National Gay and Lesbian Task Force) from 1976 to 1978. He also served on the Wisconsin Governor's Council on Lesbian and Gay Issues in 1983.
Louie married the love of his life, Ernest Clay, in a private ceremony using the 1928 Book of Common Prayer on February 2, 1974, although that marriage had no legal standing. They married legally on August 22, 2013, and Crew took on his husband's last name.
Louie's deep faith and understanding of church dynamics played a crucial role in the Episcopal Church's progress on LGBTQ justice issues over the past 50 years.For a fuller understanding of the enormous impact Dr. Crew Clay has had on the lives of LGBT and straight Episcopalians, we invite you to watch this Louie Crew Clay Retrospective video which was shown (a surprise to Louie) during the Integrity Eucharist at the 2015 General Convention of the Episcopal Church:  https://youtu.be/ZiQNxdAn8sQ
You may visit his homepage: http://andromeda.rutgers.edu/~lcrew/
THE OASIS GRANT
The Oasis will entertain applications for grants of up to $5,000 for specific projects within a congregation or ministry which are in keeping with our mission and goals.
HOW TO APPLY
To be considered please supply the following information by April 1st if you wish to be considered for the same year:
What is the purpose of the grant?
How will the grant be used that is aligned with The Oasis' mission?
What is the expected outcome as a result of the grant?
What is your proposed budget?
Please note:
If a grant is awarded you will be required to submit a written report to The Oasis upon completion of your project.
If a grant is awarded The Oasis must be acknowledged as funding or helping to fund your project.
If a grant is awarded a full accounting of the expenditure will be required.
Please answer in as much detail as necessary and send your application to us at the contact below.
HOW TO APPLY
Submit your application by April 1st to:
The Oasis, 31 Mulberry Street, Newark, NJ 07102