LOUIE CREW CLAY SCHOLARSHIP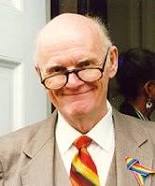 In recognition of the late Dr. Louie Crew Clay's many years of prophetic witness in and beyond the Diocese, The OASIS – a justice ministry of the Episcopal Diocese of Newark – is pleased to announce a fund to support scholarly work that shares our mission "to challenge the church to be a prophetic witness."
The OASIS will award up to two annual scholarships of $2,500. Scholarship applications will be vetted by a Scholarship Committee and winners will be notified in June.
We welcome applications from writers, students, and researchers, which must be received by April 1st to be considered for the same year.
HOW TO APPLY
Describe specifically in no more than 500 words how you will use the money to support ongoing scholarly work which shares The Oasis' mission.
At the top of the sheet include your name and contact information.
Attach a résumé no longer than one page and on a third page provide a name, postal and/or email address, and phone number for two references who know you and your scholarship.
Submit your application to chair@oasisnewark.org
THE OASIS GRANT
The Oasis will entertain applications for grants – typically up to $5,000 – for specific projects which are in keeping with our mission and goals.
HOW TO APPLY
Applications will be received and considered on a rolling basis.  To be considered please supply the following information:
What is the purpose of the grant?
How will the grant be used that is aligned with The Oasis' mission?
What is the expected outcome as a result of the grant?
What is your proposed budget?
Please note:
If a grant is awarded you will be required to submit a written report to The Oasis upon completion of your project or periodic updates if applicable.
If a grant is awarded The Oasis must be acknowledged as funding or helping to fund your project.
If a grant is awarded, awardees will be invited to submit a sample or description of their work for sharing on the Oasis website.
If a grant is awarded an accounting of the expenditure will be required.
Please answer in as much detail as necessary and send your application to chair@oasisnewark.org